Alfa Romeo is a storied Italian automotive brand with a rich and fascinating history. Founded in 1910, the company has a long legacy of producing high-performance cars that are known for their style, engineering, and driving dynamics.
One of the early highlights of Alfa Romeo's history was the introduction of the 15-30 HP in 1913, which was the first car to be designed and built entirely in-house by the company. This was followed by a series of successful racing cars, including the P2 Grand Prix car, which won the inaugural World Championship of Drivers in 1925.
In the post-war years, Alfa Romeo continued to make a name for itself with a series of iconic sports cars like the Giulietta and the Giulia. These cars were known for their excellent handling and stylish Italian design, and they helped to cement Alfa Romeo's reputation as a leader in the automotive industry.
In the 1970s and 1980s, Alfa Romeo expanded its lineup to include a range of sedans, hatchbacks, and SUVs. These cars were well-regarded for their combination of performance, style, and practicality, and they helped to establish Alfa Romeo as a major player in the global automotive market.
Today, Alfa Romeo continues to build on its rich heritage by producing a range of high-performance cars that are designed to be driven and enjoyed. From the sporty 4C coupe to the luxurious Giulia and Stelvio, Alfa Romeo has something for everyone who values driving excitement and Italian style.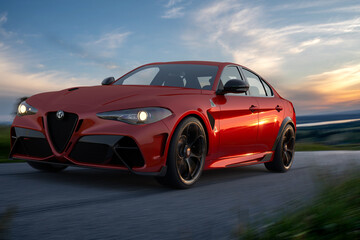 In conclusion, Alfa Romeo is a brand with a long and illustrious history of building high-performance cars that are loved by drivers all over the world. Whether you're a seasoned enthusiast or just looking for a car that's fun to drive, Alfa Romeo has something for you. So, if you want to be a part of this rich history and drive a car that's sure to turn heads, consider an Alfa Romeo for your next vehicle purchase.